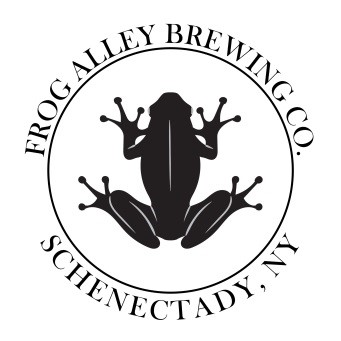 Frog Alley Brewing opens full taproom in Schenectady
Expansive new facility brews, cans and serves beer, will train others in the art, science and business of brewing
BY JOHN CROPLEY, The Daily Gazette
SCHENECTADY — Frog Alley Brewing officially opened its taproom Friday, reaching a milestone notable even within a season of milestones for the rapidly growing downtown craft brewer.
The temporary taproom that the brewery had run downstairs for months was promptly decommissioned as per state requirements as the license came through for the expansive upstairs taproom — which is a 40-tap room, to be exact.
When that last state approval was received, the staff flipped the switch and started pouring beer there Thursday, 24 hours before the grand opening.
On the next-to-last day of summer 2018, the young brewery poured its first beer, an India Pale Ale brewed by nearby Mad Jack Brewing because Frog Alley's plumbing and electricity connections weren't complete. Frog Alley owner J.T. Pollard reeled off a list of achievements reached in the seven months since:
Volume of beer brewed has grown in every successive month.
Nearly 80 area establishments now have Frog Alley on tap.
The brewery's canning line went live a month ago, though Frog Alley hasn't started retailing its own beer off-site yet.
Fabrication of the bottling equipment is complete, though it isn't on-site yet.
The brewery is brewing and canning on contract for other brewers; a limited-edition tea was coming out of the tank and going into cans Friday for industry giant Anheuser Busch.
Five colorfully painted shipping containers are in place for use as guest taprooms for other breweries and training space for aspiring craft brewers.
To view the complete article and photos on the Daily Gazette website, click here.