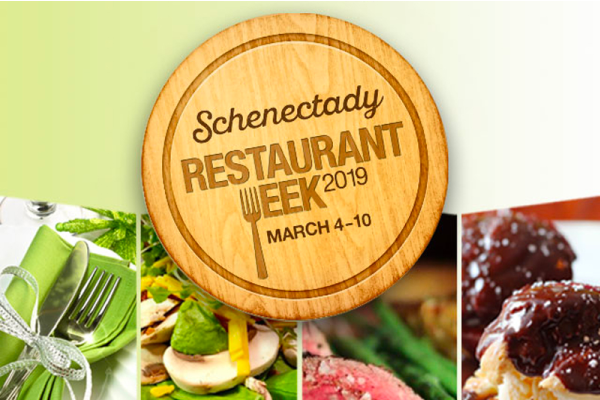 DSIC and Chamber Announce Success of 2019 Schenectady Restaurant Week
14th annual promotion yields largest economic impact to date
Schenectady, N.Y. – The Downtown Schenectady Improvement Corporation (DSIC) and the Chamber of Schenectady County, an affiliate of the Capital Region Chamber, are pleased to announce the success of the 14th Annual Schenectady Restaurant Week, which took place March 4-10, 2019. A total of 23 restaurants in Downtown Schenectady and nearby areas of Schenectady County participated in the promotion by offering multi-course, fixed-price menus for $25. Data gathered from participating restaurants and customer surveys showed increasingly strong results for the popular promotion.
Chamber President and CEO Mark Eagan said, "The average amount spent per person before tax and tip this year was $33.64, which is 34.56 percent over the $25 promotional price and represents a slight increase in average spending per person over 2018. With an estimated 15,341 meals served throughout the promotion – a 10.7 percent increase over 2018 – the 14th Annual Schenectady Restaurant Week had an economic impact of approximately $516,000. This represents an 11.43 percent increase over 2018 and the largest amount since the promotion began in 2006." He added, "We are so very pleased that this promotion continues to provide a significant economic boost to restaurants during a normally slow time of the year."
DSIC Executive Director Jim Salengo said, "Restaurant Week survey cards indicate that 33 percent of guests were from outside of Schenectady County, 36 percent were trying a restaurant for the first time, and 55 percent would not have chosen to eat out if it weren't for the promotion." He added, "In addition, the DSIC's website featuring Restaurant Week information and menus received more than 35,000 page views during the promotion, and 92.8 percent of visitors were new to the site. These numbers show that Schenectady Restaurant Week continues to generate new interest and participation in Schenectady's burgeoning dining scene."
Feedback from business owners supports the success of Schenectady Restaurant Week. Tom Gallant of Turf Tavern in Scotia said, "What a great week! It seemed like six Saturday nights in a row. The amount of new faces was the best ever."
Sue Caulfield of The Waters Edge Lighthouse Restaurant in Glenville said, "We had great turnout with a lot of new faces. We turned over tables three times in a night."
Evan Christou of Tops American Grill, Bakery & Bar in Rotterdam reported, "We had a record setting week!"
All guests who filled out Schenectady Restaurant Week survey cards following their meals were entered into a drawing to win one of two Schenectady Ale Trail prize packages from Discover Schenectady. The winners drawn at random were Karen & Paul Ottati of Halfmoon, who filled out their card at More Perreca's in Schenectady; and Doug Williams of Schenectady, who filled out his card at Armondo's Villa Tuscan Grill in Rotterdam.
Schenectady Restaurant Week is coordinated annually by the Downtown Schenectady Improvement Corporation and the Chamber of Schenectady County, with promotional support from Discover Schenectady. The 2020 event will be scheduled for next winter after the release of Proctors' full performance calendar. For more information on Restaurant Week, contact the Downtown Schenectady Improvement Corporation (www.downtownschenectady.org) at 518.377.9430 or the Capital Region Chamber (www.capitalregionchamber.com) at 518.431.1400.
Contacts:
Jim Salengo, Downtown Schenectady Improvement Corp., 518.377.9430
Jennifer Sims, Capital Region Chamber, 518.431.1418