More Blighted Properties Slated for Demolition in Schenectady County

Schenectady, N.Y., May 31, 2018 — The Schenectady County Metroplex Development Authority, the Capital Region Land Bank and The Community Builders, Inc. today announced plans to demolish almost 40 blighted buildings in Schenectady.

"Vacant, blighted zombie properties are not welcome in Schenectady County. They hurt the individuals and families who want to invest in our neighborhoods and create hazards for our first responders. We want safe, livable housing in our community.  By getting rid of zombie properties, we stay focused on efforts to boost property values and encourage home ownership," said Richard Ruzzo, Capital Region Land Bank Chairman and a member of the Schenectady County Legislature. "This next round of demolitions will continue the revitalization and comeback of Schenectady neighborhoods."

Ray Gillen, Metroplex Chair and Commissioner of Economic Development and Planning for Schenectady County said, "We are pleased to work with the Land Bank and The Community Builders to eliminate more blighted buildings. This next round of demolitions will continue to build the strong momentum that is driving redevelopment downtown and in the neighborhoods."

A recent Rockefeller College/Albany Law School study found that vacant buildings detract from the value of nearby homes and that home prices in the Eastern Avenue corridor increased after vacant and abandoned properties were demolished in the neighborhood.

Metroplex has approved funding to demolish 729 State Street, 1101 Barrett Street and 608 Smith Street. The building at 729 State Street is a vacant and blighted commercial building that is blocking progress on the 700 block of State Street which is seeing investment in new buildings and building renovations. The vacant building at 1101 Barrett Street is negatively impacting redevelopment in the Little Italy neighborhood just off the lower Union Street corridor, which is also seeing considerable new investment. The vacant 608 Smith Street building is located near Proctors and is owned by Schenectady County. The County is helping to fund this demolition.

Metroplex will work with the Capital Region Land Bank to carry out the demolition work. The Land Bank will issue a bid in June for the three Metroplex-funded projects along with another 15 blighted structures in the Mont Pleasant and Eastern Avenue neighborhoods.  By working together, both organizations hope to obtain the best bid prices for demolition work.

Both Metroplex and the Land Bank are also working with The Community Builders, Inc. (TCB) to continue to eliminate blighted structures in the Hamilton Hill neighborhood. TCB is currently investing more than $20 million in Hamilton Hill through Phase I of its Hillside View development.  Phase II calls for an additional investment of more than $40 million.  To prepare for this next development phase, TCB recently worked with Mayor McCarthy and the City Council to acquire vacant lots and empty buildings that will be demolished to make way for the Phase II development.

TCB plans to demolish the following vacant properties:

288 Paige Street (partially funded by Metroplex)

759 Albany Street (partially funded by Metroplex)

834 Albany Street (partially funded by Metroplex)

749 Albany Street

763 Albany Street

830 Albany Street

831 Albany Street

306 Craig Street

308 Craig Street

909 Delamont Avenue

911 Delamont Avenue

299 Germania Avenue

307 Germania Avenue

308 Germania Avenue

309 Germania Avenue

313 Germania Avenue

701 Stanley Street

706 Stanley Street

710 Stanley Street

712 Stanley Street

734 Stanley Street

"The demolition of these properties will enhance TCB's $20 million investment in Hamilton Hill and lay the groundwork for Phase II. By demolishing these vacant and blighted properties, we hope to make a major impact on the Albany Street and Craig Street corridors," said Susan McCann, regional vice president of development, New York and New Jersey at The Community Builders, Inc. (TCB).

Jackson Demolition, based in Schenectady, will perform demolition work for TCB.

Capital Region Land Bank
The Capital Region Land Bank was established in 2012 as one of the first land banks formed in New York State. The Land Bank's mission is to strengthen neighborhoods within Schenectady and Amsterdam by mitigating blight. More information and a list of Land Bank and City of Schenectady owned properties for sale can be found at www.capitalregionlandbank.com.

The Community Builders, Inc.
The Community Builders, Inc. (TCB) is one of America's leading nonprofit real estate developers and owners. TCB's mission is to build and sustain strong communities where people of all incomes can achieve their full potential. TCB's mission is realized by developing, financing and operating high-quality housing and implementing neighborhood-based models that drive economic opportunity for our residents. Since 1964, TCB has constructed or preserved hundreds of affordable and mixed-income housing developments and secured billions of dollars in project financing from public and private sources. Today, TCB owns or manages 11,000 apartments in 14 states. TCB is headquartered in Boston with regional hubs in Albany, Manhattan, Cincinnati, Chicago and Washington, D.C.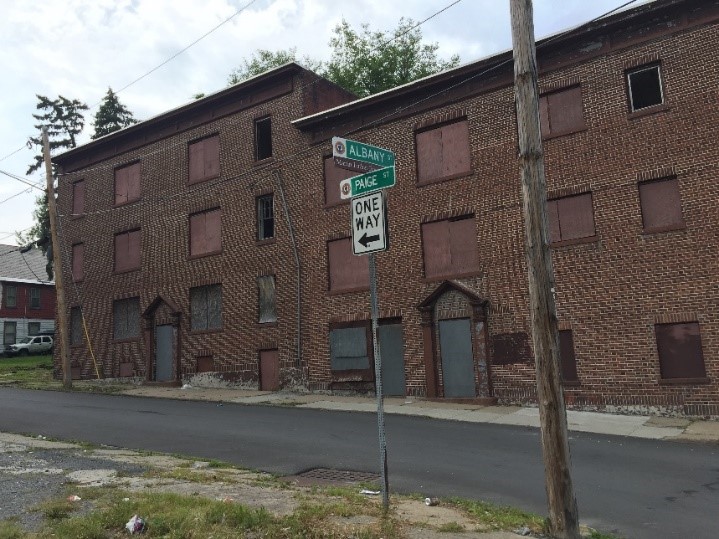 288 Paige Street to be demolished